One Deal for Social Work
In the face of burnout and high vacancies, SASW calls for a set of nationally agreed terms and conditions for social workers across Scotland.
SASW campaigning in Parliament
SASW has ongoing engagement with MSPs from across the political parties. We work to engage with policymakers to promote social work and represent the views of our members in the corridors of power.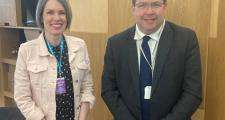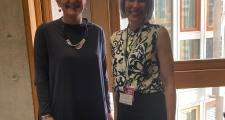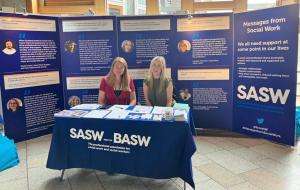 Our #MessagesFromSocialWork exhibition at the Scottish Parliament engaged almost 50 MSPs, 7 of whom were Ministers. This exhibition gave MSPs an insight into the reality of being a social worker and a person using services in Scotland today. 
In November 2022, SASW National Director, Alison Bavidge and SASW Chair, Jude Currie both gave evidence to MSPs on the National Care Service Bill, where they highlighted the urgent need to improve working conditions for social workers and invest in the profession.
Calling for an increase in the Mileage Allowance Rate
SASW is calling for an increase to the mileage allowance rate for social workers and social care staff. We have engaged with MSPs from all parties on this issue, which has been raised with Scottish Ministers directly in the parliament chamber.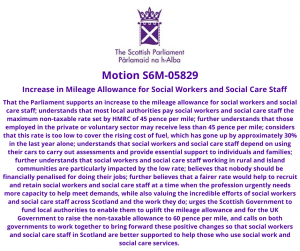 In September 2022, SASW worked with Jackie Baillie MSP to lodge a motion to parliament calling on the Scottish Government to fund local authorities to enable them to uplift the mileage allowance.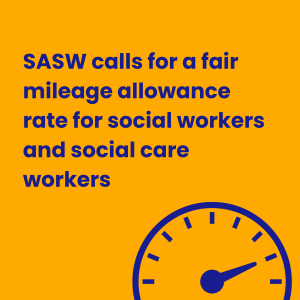 In July 2023, SASW and BASW England wrote to the UK Chancellor urging the UK Government to lift the non-taxable rate to 60p a mile and calling on UK Ministers to work constructively with the Scottish Government to address this pressing issue.
In October 2023, SASW wrote to the Scottish Government calling for all social workers and social care workers to receive mileage rates on a par with colleagues in the NHS, who rightly now receive 61p a mile. 
An increase in mileage allowance to reflect higher fuel costs compared to ten years ago is reasonable and justified. Nobody should be of pocket for doing their job.

Attribution

Alison Bavidge, SASW National Director
Calling for better social work student bursaries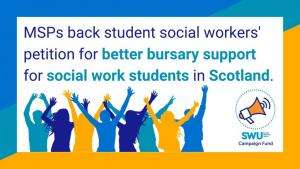 This is a student-led campaign backed by the SWU Campaign Fund and SASW.
SASW is making the case to the Scottish Government for significantly improved and more accessible funding for students wishing to purse a career in social work in Scotland. We have met with Ministers and our petition, considered by the Scottish Parliament's Petitions Committee.
At a time when our profession faces a recruitment and retention crisis, it is imperative that we're removing barriers to entering social work and making it a viable and attractive career option for everyone.
Currently, undergraduate social work students get no bursary support during their placement years, unlike nursing, paramedic and midwifery courses. And funding for postgraduate students is limited in availability and level of support.
MSPs on the committee unanimously backed our campaign and agreed to take the issue forward with the Scottish Government.
Thanks to all this campaign activity, the Scottish Government have now agreed to review current funding arrangements alongside the SSSC with a view to considering how the bursary system can be made fairer.