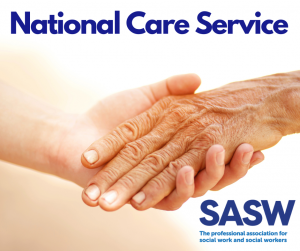 Overview
Following a lengthy consultation process, the Scottish Government introduced the National Care Service Bill to parliament on 20 June 2022. 
The legislation sets out principles for the National Care Service and also states that it is "the duty of the Scottish Ministers to promote a care service designed to secure improvement in the wellbeing of the people of Scotland". You can read the Bill and accompanying documents below.
The Bill is very much a framework at this point. More details will be added in during its passage through parliament and following further consultation. 
Actions and highlights
Our National Director and our Scotland Committee Chair gave evidence in person at the Health, Social Care and Sport Committee. 

SASW continues to engage proactively and constructively with the Scottish Government on the National Care Service Bill, including through correspondence and meetings with Ministers.

SASW has engaged positively with opposition MSPs, briefing them on our key asks and the opportunity for social work in a National Care Service.

The Scottish Government's consultation setting out proposals for a National Care Service closed on 2 November 2021. For the duration of the consultation period, we engaged extensively with our members, people who use social work services, their carers and other key stakeholders. We want to extend our thanks to all those who took the time to share their views on the proposals, either through our survey or at the various engagement events we and others held.
Key asks and recommendations
Following extensive consultation with members, SASW is putting forward our key asks for social work in a National Care Service to MSPs from all parties. 
A social model of care and support based in human rights, equalities, and inclusion. With a focus on equalities including anti-racism, the impact of poverty and disadvantage must be explicitly recognised and connected to other Government policy workstreams  
Social work should be an accessible, trusted and stigma-free public service.
Social workers must be able to practice in early intervention and prevention to improve outcomes, return balanced caseloads and contribute to ensuring that social work and social care are attractive and sought-after career choices. 
Social work's three specialisms (adults', children's and justice services) must be located together to ensure effective support to people when they need it at all life stages. This needs thought and careful assessment of the options. 
Changes to structures and governance arrangements must simplify the experience for people using services and those who support them.  
Parliamentary process
The Bill is currently at Stage 1 of the Parliamentary process. During this first stage, the Bill has been examined by the Health, Social Care and Sport Committee (the lead committee) with support from the Education, Children and Young People Committee and Local Government, Planning and Housing Committee.
Our National Director and our Scotland Committee Chair gave evidence in person at the Health, Social Care and Sport Committee. 
The lead committee will submit a report recommending whether the parliament should support the general principles of the Bill. This was due in March 2023 but, following what they term "complex and extensive" scrutiny of the proposals, MSPs voted to pause Stage 1 considerations until after summer 2023. Opposition leaders have called for this to be until November.
The legislation will be debated in the chamber and a vote taken to decide whether or not the Bill moves to the second stage.
If the Bill proceeds to stage two, it can now be amended. MSPs will table amendments which will be voted on by the lead committee. SASW (and other stakeholders) will be drawing to the attention of MSPs the amendments our members would like to see in the Bill.
The amended legislation (or unamended, if no amendments are made) then proceeds to its final stage where MSPs can propose further amendments which are now voted on by all MSPs in the chamber. The Bill will be debated, and a final vote is taken to determine whether or not it will become law.
Read about the full parliamentary process for a Government Bill.
How to get involved
Why not join the Social Work Policy Panel? 
The Social Work Policy Panel is open to all frontline social workers and brings you together with Government to explore and discuss aspects of the National Care Service.
We are representing the views of our members in the development of the National Care Service and the National Social Work Agency. When we met the Minister for Mental Wellbeing and Social Care, he emphasised the importance of secondary legislation in shaping this Bill. We'll continue to engage with MSPs and Ministers relaying our messages, focusing our engagement on improving outcomes for the people who use social work services, and, at the same time, promoting our skilful and passionate workforce. If you have any views, you feel we should be sharing, please contact socialworkpolicypanel@basw.co.uk to discuss.
A series of monthly social work policy panel meetings for frontline social workers are underway. This is an opportunity to speak to and hear directly from government officials about policy affecting social work. It includes the National Care Service and the National Social Work Agency activity that impacts on what we do. It's an ideal opportunity to have your voice heard and influence policy as it develops.
A variety of topics are discussed and everyone is welcome. An information bulletin is distributed following each meeting to keep everyone informed about the content of the discussions and topics for future meetings. If you would like to receive the flash report, have a topic suggestion or register your interest in attending the meetings, please contact socialworkpolicypanel@basw.co.uk
What is a National Social Work Agency?
A National Social Work Agency (NSWA) will be established as part of the National Care Service to support social work in education and improving and scaling up good practice. It will also support workforce planning, training, and development as well as terms and conditions - including pay. The National Social Work Agency doesn't feature on the face of the National Care Service Bill; however, it is explained in the Policy Memorandum which is one of the supporting documents. You can read more about it in Points to Ponder.
SASW is actively engaged with the Chief Social Work Advisor (CSWA) and her staff along with Social Work Scotland colleagues in the workstreams associated with the development. There are 5 workstreams:
Governance and structures
Workforce
Leadership and culture
Education and training
Quality and improvement
We have an active participant from SASW on each of these workstreams carrying the voices and views of front-line workers.
All workstreams come together every couple of months to report on progress and address the interdependent issues. The workstreams are just becoming established but we will keep you updated with progress.
The development of the National Social Work Agency is overseen by an Advisory Board which consists of representatives from across the sector.
We hope that establishing such a structure will assist in raising the profile and status of social work, However, work is also underway to address the current workforce pressures experienced by social workers and SASW are fully involved on your behalf.
What could a National Care Service mean for Social Work?
SASW created a blog series exploring what a future National Care Service could mean for Social Work. We reflect on information gathered from our members and use it to prompt the thinking of our broader membership. We ponder over points and consider them from different perspectives. Sometimes there is no clear solution but exploring the concerns, issues and opportunities is helpful and these short blogs allow us to share them with you.
Documents for A National Care Service for Scotland
Find supporting documents below including:
National Care Service (Scotland) Bill

A National Care Service for Scotland - Consultation Response from the Scottish Association of Social Work.

An additional paper pulling together the issues more specific to social work to enable a focussed perspective on and from the profession.

A short briefing from SASW

SASW submitted written evidence to the committees
A shortened SASW position paper
Additional resources
Letter from Minister for Wellbeing & Social Care outlining the key proposals in the Bill


Letter from Minister for Wellbeing & Social Care, Kevin Stewart on the National Care Service Bill which was introduced to parliament on 20 June 2022.