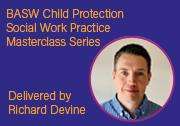 "Really appreciated the speaker's sharing of lived experience and feel it added great value to the training. Speaker was also very knowledgeable"
Suitable for all social workers with an interest in child protection.
Online via MS Teams 12pm - 1.30pm
Price per session
-
BASW members - £16.50 + VAT (£19.80) ||| Non members - £25 + VAT (£30)
Attracting 1.5hrs CPD 
Find a course
12.12.23 Moral distress, impossible decisions and removing children
Examining ethical challenges and developing skills, ideas, and tools to make defensible, evidenced-based, life-changing decisions about children.
Course outline:
Child protection social work requires practitioners to make unbelievably difficult and life-changing decisions. Often, decisions that involve two or more courses of action that are in conflict, both with positive and negative implications, yet can each be defended. There is surprisingly little guidance on how to weigh up the advantages and disadvantages of decisions to arrive at an evidenced-based and defensible decision.
In this focused masterclass, Rich Devine, drawing on twelve years of frontline experience will share the research on the distress experienced by social workers making decisions, and important practical tools that support social workers in their decision-making process. Tools that will alleviate anxiety about making decisions and provide a robust rationale that stands up to scrutiny in court reports and contested hearings. 
Learning outcomes:
Learn about the personal impact of decision-making through terms such as ethical trespassing and moral distress
Understand the debate about whether decision-making is an art or a science
Recognise the challenges of decision-making and how they can be overcome
Explore ideas and tools that support decision-making, including the decision tree so you can feel confident in making recommendations
Feel more confident in writing court statements and giving evidence
Improve the quality of your decisions
The trainer: 
Rich Devine (Twitter @RichardDevineSW) is a Consultant Social Worker, with over 12 years' experience working with children and families in a child protection context. 
He has a Masters in Attachment Studies from Roehampton University, London (2018) and is trained in several attachment procedures. Currently, he is a Visiting Researcher at Cambridge University. He writes one of the UK's most popular social work blogs, exploring topics such direct work with children, assessment, and relationship-based practice. 
In 2022, he co-facilitated a series of webinars on co-design and co-production with Tim Fisher, one of the leading UK experts on participatory approaches and he undertook research on parental advocacy with Dr Clive Diaz from Cardiff University (to be published in 2023). 
Delivered online using MS Teams with limited group sizes to allow for full interaction. Up to 12 hours CPD available through these masterclasses - attend as many as you can! To discuss rates for block bookings of 5 or more delegates on any one session, contact ProfDE@basw.co.uk.
BASW members please log in to your BASW account prior to booking to maintain your CPD record