BASW stands in solidarity with Ukraine and all affected communities and countries.
We're working with colleagues across Europe to offer support and share information. We're also in dialogue with the UK Government on the UK's response to the crisis, including on ensuring safe and immediate humanitarian routes for refugees from Ukraine, in line with our position of promoting human rights for all refugees and asylum seekers. 
BASW's Ukraine leadership group meets monthly to agree our response to this situation. Members can ask to be kept informed of specific developments, contribute by sharing views or experiences and can attend the meetings. Please email us on policyadmin@basw.co.uk
Menu
BASW Statements & Updates
IFSW Statements & Updates
Government Guidance
England 
Scotland
Both Scotland and Wales have decided upon additional assistance measures and their Governments can be listed as sponsors under the sponsorship scheme.
Wales
Northern Ireland
Actions members can take
BASW suggests the following actions that many members could take at a local level:
Find out who is coordinating support and safeguarding visits for Ukraine refugees in your local authority area and find out what advice is available for refugees and hosts
If none is available or it is inadequate, raise this with the relevant managers/leaders
If refugees are coming to your area, find out how safeguarding checks for adults and children are being done and alert local refugee and safeguarding leads to the risks of the 'social media' 'matching' scheme
Check whether there are arrangements being put in place to support hosts and if not, suggest this to local coordinators
See if there is planning in place to protect people in cases of hosting arrangements break down
Reach out to Ukrainian community support organisations and see if you can provide information or signpost them to further help and resources, whether statutory or voluntary
Write to your MP and/or local Councillors about local and/or national concerns. Let BASW know what response you get.
We will continue to develop the advice and suggestions for members and also get and share feedback from members about the actions they are taking.
UK Social Work & the War in Ukraine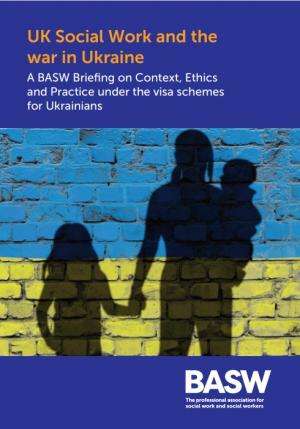 In January 2023, BASW published a document to support, inform and empower social workers across the UK in their ongoing practice and consideration of issues that arise in relation to people arriving and staying under the UK Ukraine visa schemes. 
Please download the document for free on the link below.