Preparation for Module 2: (1 hour)
Learning goals
Following this module you should be able to:
Explain legislation, policy and procedures that are pertinent to the context.
Promote the importance of the social work role in and advocate for the highest quality social work services for people before, during and after a disaster.
Reflect on the wider contexts, causes and implications of a disaster.
Full details on the learning goals on which this, and other modules in this series, are based, can be found via the Social Work in Disasters overview page. You can also find an assistive glossary on this page we recommend you refer to.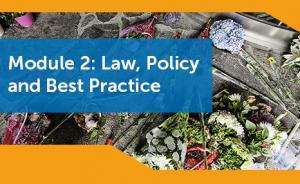 Consider while reading:
What challenges did social workers face during the Covid-19 pandemic?
What are some of the ways that social workers overcame these challenges?
How do wider contexts shape social work during disasters?
Video resource
This video is part of the Module section on Advocating for the role of social workers in disasters featuring Margaret Aspinall, Chairperson of the Hillsborough Family Support Group
Video resource
This video is part of the Module section on fContextualising disasters featuring Andy Burnham, Mayor of Greater Manchester.
Voices of Social Work Through The Troubles 
Download the full report referenced in section Contextualising disasters as part of a Case Study.