Curating our past, creating our future
As BASW turned 50 in 2020, we delivered a range of activities to explore the past, present and future of social work from 1920 to the present day. The project raised the profile and understanding of the profession and revealed the diverse voices of social workers and people who experience, work with and care about the profession. 
BASW UK 50th anniversary virtual festival
The BASW 50 two-day festival marked 50 years of BASW and was a unique opportunity to explore social work past and present and look to the future.
We were delighted to be joined by special guests from across the social work landscape, including author and poet Lemn Sissay, David Brindle from the Guardian newspaper, plus music and a host of contributors from practice, leadership, lived experience of services, education, research, writing and activism. 
550 registered for the event with over 360 joining us live for at least one of the BASW 50th Anniversary festival sessions in June 2020, raising £3640 for three important charities/campaigns - the Social Workers Benevolent Trust, Child Poverty Action Group and ATD Fourth World. 
The BASW Future of Social Work e-book project
BASW Future of Social Work e-book project 
Oral histories of social work
BASW developed a Heritage video capturing and showcasing a range of voices from across our profession and its history.
See the BASW 50 Heritage video in the YouTube video below.
Anniversary edition of the British Journal of Social Work (BJSW)
Developed by Researcher Anne Cullen and a steering group of BASW members and editors of the BJSW past and present. 
Included in this edition were journal articles relating to policy and legislative changes as well as changes to the profession from 1970 to the present day.
Featured articles are grouped in four collections: 
Social Work with Children, Young People, and Families, 
Social Work with Adults,
Social Work Education and the Workforce, and;
Theory, Research, Ethics, and Values. These areas have been identified by our editors as crucial in understanding social work in the past and informing research and practice of the future.
Professional Social Work magazine - The 50th Anniversary Souvenir Edition
Social Work in Wales from 1970: A Timeline
See the Social Work in Wales from 1970 Timeline
Take a look at the BASW Heritage Project video and delve into the last fifty years of social work with us through voices from far and wide.
BASW Cymru worked on a timeline of key events in Wales in the last 50 years and oral histories project recording and collating experiences of social workers in Wales. 
We received lots of Happy Birthday messages including very special video messages from Jo Brand and Kriss Akabusi, ministers, MPs, social workers, BASW members and more...
Independent art cinemas across Scotland showed a number of social work films including 1976 'Cathy Come Home' and 'Oranges and Sunshine'.
The "Voices Project" told the story of social work during the Troubles continued to develop as part of the heritage project, reaching out through discussion and creating further dialogue.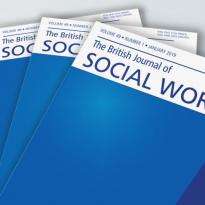 Get 70% off BJSW subscriptions as a BASW Member
Your BASW membership means you have a 70% discount off subscriptions for BJSW (print is normally £144 each year), which is fantastic value.
Take a look at some of the other blogs, oral histories and poems