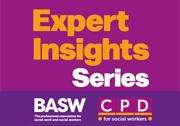 Find a course
16.01.24 Lazy Radical Social Work in Practice Training
Tuesday, 16 January 2024 - 9:30am to 12:30pm
with Professor Jane Fenton - part of BASW's Expert Insights Series
Based on Jane's book 'Social Work for Lazy Radicals', this session will introduce lazy radical practice and explore how it can be realised in practice via relationship building, critical thinking and moral courage. Discussion of real-life barriers to effective and relational practice will be encouraged.
Part of BASW's Expert Insights Series. A session uniquely designed and delivered by Professor Jane Fenton online via MS teams, with limited class sizes to allow for a fully interactive experience
Learning Outcomes -
Enhanced understanding of radical social work – and facilitation of a move away from individual -level understandings of social problems
Enhanced understanding of the tenets and importance of relationship-based practice
Understanding of what is meant by critical thinking and what  social workers need to know
Understanding of moral courage and its centrality in social work practice
Understanding and problem-solving of barriers to radical practice
Trainer Bio -
Jane Fenton is Professor of Social Work Education at the University of Dundee where she has worked for 17 years. Prior to working at the university, she was a criminal justice social worker and team leader.
Jane has written and published extensively on social work education – especially the erosion of radical social work and the influence of neoliberalism on the practice of social workers. She has written two textbooks: Values in Social Work and Social Work for Lazy Radicals. Her current research interests centre on generational changes, especially in relation to our current generation of students; free expression and debate in the classroom; and the tendency towards self- censorship. Jane is passionate about social work and wants to be as useful as possible to currently practising social workers.
BASW members please log in to your BASW account prior to booking to maintain your CPD record
08.02.24 Brain in Crisis Training
Thursday, 8 February 2024 - 3:00pm to 6:00pm
Participants will gain tools and skills to help themselves and help others to help prevent a brain in crisis, to soothe the brain through a crisis state, as well as build lasting changes in the brain to empower and move forward.
Filled with essential information for administrators, social workers, advocates, medical professionals and more, join Havening Techniques Certified Trainers Dr. Kate Truitt, licensed clinical psychologist and applied neuroscientist, and Jan Carpenter, BscSW, DipSW, DMS, DipCoaching in this engaging and practical workshop filled with neuroscience-based tools for some of the toughest and yet most powerful opportunities in the journey of being human.
Learning Outcomes :-
Establish a working understanding of the neurobiology of a brain in crisis
Identify at least 2 barriers to calming a brain in a crisis state
Explain The relationship between anxiety/fear and our thinking brain – "Self"
Learn and practice at least 3 neuroscience-based interventions to help ground a brain in crisis
This session will be held on MS teams.
Trainer Biog's
Dr Kate Truitt
Dr. Kate Truitt is proud to hold the position of Chief Strategy Officer for the Havening Techniques Organisation. Utilising her training as a neuroscientist and clinical psychologist, along with a M.B.A. in Healthcare Administration, Dr. Kate has dedicated her life to advancing the treatment of stress-related disorders and understanding of brain resiliency. She believes in the brain's ability to transcend and transform the complex and beautiful relationship between nature and nurture. Her training as a neuroscientist is incorporated in her therapeutic as well as educational approach to demystify the processes leading to the development and continuation of experiences of psychology and physical pain. Dr. Kate and her teams' honour the unique and dynamic nature of each individual in order to facilitate effective, efficient, and empowered healing.
Since 2014 Dr. Kate has tirelessly dedicated herself to the advancement and growth of Havening. Her efforts have led to: continuing education accreditation with the American Psychological Association (APA) and the National Association of Social Workers (NASW); strategic partnerships with PESI and the United States Department of Defense in sponsoring numerous Havening trainings and workshops; the publication of the first Self-Havening Healing Handbook for the lay public; advancing the treatment utility of Havening to niche populations and communities both through advanced workshops as well as community partnerships, and much more.
In 2012 Dr. Kate founded the Truitt Institute (formally Viva Excellence) to provide cutting-edge training and seminars at a global level to bring together the newest advancements in the fields of neuroscience, resilience, and stress and trauma treatment. She was the first Certified Practitioner and Certified Trainer of the Havening Techniques. Dr. Kate's tireless efforts continue to advance the scientific and communal presence of Havening as a foundational technique for creating neurobiologically based long-term and sustainable change in the face of stress and trauma.
Dr. Kate leads a group private practice in Pasadena, CA, Dr. Kate Truitt & Associates, where she and her team specialize in the most effective and efficient treatments empowering people to Live Their Excellence. Visit www.DrTruitt.com to learn more. She also serves as the CEO of the Trauma Counseling Center of Los Angeles, the Founder and CEO of the Amy Research Foundation. In 2022 Dr. Kate authored the first book for the practical application of the Havening Techniques - Healing in Your Hands: Self-Havening Exercises to Harness Neuroplasticity, Heal Traumatic Stress, and Build Resilience.
Jan Carpenter
Jan is an Adult Social Worker of 25 years to Advanced Practitioner and Team Manager level. Jan is also a Personal Performance Coach and Havening Techniques® practitioner and trainer, with over a decade of expertise in helping individuals address lifestyle issues and make practical steps to address their stress and improve their wellbeing.
As the Founder of Turn Over a New L.E.A.F. CIC, Jan is committed to bringing neuroscience informed resilience and wellbeing approaches to social work. He provides 121 Coaching and Havening sessions and Havening workshops to social workers and student Social Workers. He has provided coaching and emotional resilience building workshops within councils, social care conferences, Brunel University, the Return to Social Work programme and as a training coordinator of Hays Social Work. 
Jan has helped many people remove or alleviate symptoms linked to acute or chronic stress, leaving them feeling happier, with greater levels of wellbeing as well as improved work performance. Such symptoms include: insomnia, disturbing night terrors, anxiety, panic attacks, relationship issues linked to childhood trauma, chronic pain, alcohol and substance abuse issues, grieving, depressive symptoms, autoimmune symptoms, hoarding.
In  2021 Jan co-author a Best Selling (Amazon) book called Winning Mindsets published in August 2021 in which he writes about his Personal Performance Coaching and Havening approach.
BASW members please log in to your BASW account prior to booking to maintain your CPD record
24.04.24 Reflective Practice & Complexity with Siobhan MacLean
Wednesday, 24 April 2024 - 9:30am to 12:30pm
A session uniquely designed and delivered by Siobhan MacLean online via MS teams, with limited class sizes to allow for a fully interactive experience
As the social work role, and the issues we are dealing with, can be seen as becoming ever more complex reflective practice is perhaps more important than ever. In this session we will refresh and explore some of the most important aspects of reflective practice, considering the stages, steps, spaces and structures of reflective practice. What does reflection look like in contemporary practice? How can we bring it into practice more fully? How do we embrace complexity more effectively with reflexivity? All of these questions and more will be explored in the session.
Trainer Biog - 
Siobhan Maclean has been a social worker for over 30 years and became a practice educator in 1995. Siobhan has worked independently for a number of years. As an independent her work is varied but includes training, devising practice learning resources and consultancy work. Siobhan still very much enjoys working as a practice educator and currently works with a few students a year in an off site capacity.
In 2004 Siobhan was appointed to the position of Secretary of the International Federation of Social Workers, holding this position for eight years. She still maintains close international links and enjoys working to support practice educators in countries where social work education is in the early stages of development.
Siobhan was recently appointed a Visiting Professor at the University of Chester. She is also an Editorial Board member of the Journal of Practice Teaching and Learning.
Siobhan has written widely, mostly around social work theory and critical reflection. She is committed to making the knowledge base accessible to busy practitioners and set up Kirwin Maclean Associates as an independent publishing organisation based on the values and ethics of social work.
BASW members please log in to your BASW account prior to booking to maintain your CPD record