BASW social work professional development courses are designed to meet your development and career needs
Our training and CPD programme focuses on:
Direct social work practice and skills development
Developing knowledge and skills to support and facilitate the education and training of others
Research, policy, service development and service improvement
Leadership and management in social work
It is part of BASW's aim to be a 'one stop' online information portal for UK social work training and development. BASW training takes into account of the diversity in the social work qualifying and post-qualifying education landscape across the UK. 
In collaboration with a range of training partners, we deliver current, diverse and relevant training on a variety of social work topics. We aim to support social workers at every stage of their career journey. Our training courses are delivered online with limited group sizes to allow full interaction between delegates and trainers.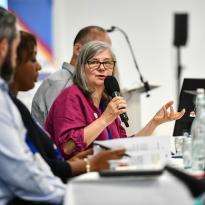 Explore all BASW events
View all BASW events, training courses, forums and special interest groups taking place across the UK and build your CPD
In 2022 we delivered 50 sessions, attended by 758 participants!
You might be interested in...