Welcome to Module 1: Introduction to Social Work in Disasters (Online training)
Before you get started, make sure you have everything ready:
Download your workbook that accompanies this training, available as a PDF and Word document

.

 




You can complete this electronically or print it out to be filled in.

Review the overall learning outcomes before you start each module.

Have the glossary to hand. You could print this or have it open as a tab on your browser.
Introduction to Module 1
Preparation for Module 1 (1 hour)
Learning goals
Following this Module you should be able to:
Explain the role of the social worker in disaster preparedness, response and recovery,
Utilise social work skills for psychosocial, practical and emotional support.
Evaluate the impact of disasters on individuals, families and communities
Full details on the learning goals on which this, and other modules in this series, are based, can be found via the Social Work in Disasters overview page. You can also find an assistive glossary on this page we recommend you refer to.
Consider while reading:
What is a disaster?
What role do social workers have in disasters?
How would the ideas in this article shape your practice if responding to a disaster in your area?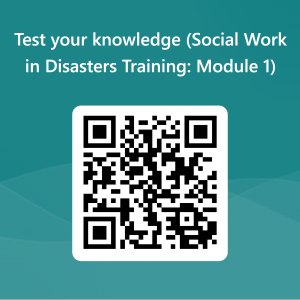 Take the quick quiz
Hint: This is covered in the above section on "The role of social workers in a disaster"
A video resource
This clip is part of Module 1: Skills for disaster working