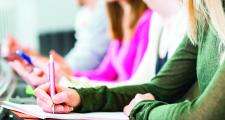 Are you a student?
Download the PDF for all relevant PCF pre-qualifying levels of social work and ASYE

This PDF includes the four pre-qualifying levels: point of entry, readiness for practice, end of first placement, end of last placement/completion and also the newly qualified social worker (ASYE level).
The three super-domains of the PCF
Purpose
Why we do what we do as social workers, our values and ethics, and how we approach our work
Practice
What we do-the specific skills, knowledge, interventions and critical analytic abilities we develop to act and do social work
Impact
How we make a difference. Our ability to bring about change through our practice, through our leadership, through understanding our context and through our overall professionalism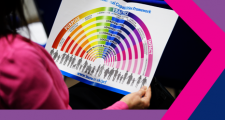 Download the PCF fan graphic
The PCF fan graphic was updated in 2018 and includes the three super domains and nine level descriptors.
Domain Descriptors
1. Professionalism
Identify and behave as a professional social worker, committed to professional development
2. Values and ethics
Apply social work ethical principles and values to guide professional practices
3. Diversity and Equality
Recognise diversity and apply anti-discriminatory and anti-oppressive principles in practice
4. Rights, justice and economic wellbeing
Advance human rights and promote social justice and economic wellbeing
5. Knowledge
Develop and apply relevant knowledge from social work practice and research, social sciences, law, other professional and relevant fields, and from the experience of people who use services
6. Critical reflection and analysis
Apply critical reflection and analysis to inform and provide a rationale for professional decision-making
7. Intervention and skills
Use judgement, knowledge and authority to intervene with individuals, families and communities to promote independence, provide support, prevent harm and enable progress
8. Contexts and organisations
Engage with, inform, and adapt to changing organisational contexts, and the social and policy environments that shape practice. Operate effectively within and contribute to the development of organisations and services, including multi-agency and inter-professional settings.
9. Professional Leadership
Promote the profession and good social work practice. Take responsibility for the professional learning and development of others. Develop personal influence and be part of the collective leadership and impact of the profession.