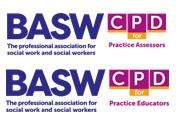 Keep your knowledge and skills up to date alongside like-minded professionals. A series of topic areas focused on helping educators and assessors provide first class support to students and newly qualified social workers.
Sessions are suitable for Practice Educators – (PEPS / PE Assessors, PEPS / PE Mentors, PEPS / PE Coordinators, Practice Mentor Assessors) and Practice Assessors (ASYE Assessors, NQSW Assessors, PAs of NQSWs, PAs of ASYEs, Supervisors of NQSWs, Supervisors of ASYEs). 
We offer discounted prices for BASW members. For organisations booking 5 or more places on any one session, contact us at ProfDE@basw.co.uk to discuss preferential rates.
"The level of interaction was good we had a good balance of being taught, group interactions and breaks"
See all upcoming courses below