BASW Recognises International Students' Day
International Students' Day takes place on Friday, 17 November to celebrate multiculturalism, diversity and cooperation among students across the globe.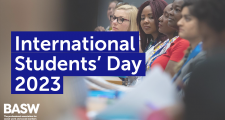 We'd like to wish all of our student members a very happy International Students' Day and thank you for all your invaluable contributions to BASW and our social work profession across the UK.
In recognition of International Students' Day 2023, we're sharing a short blog from BASW Student Ambassador, Rekha Syamalakumary who reflects on her social work journey and time at BASW.
International Students' Day |  Rekha Syamalakumary
As an international student ambassador, I am compelled to express my gratitude for the positive impact that my involvement with BASW has had on my social work student journey. 
Attending BASW meetings has proven to be a transformative experience, significantly enhancing the productivity of my academic pursuits. The wealth of knowledge shared by experts in the field has not only deepened my understanding but has also provided valuable insights from experienced professionals. 
The supportive and guiding environment fostered by BASW members has been instrumental in shaping my perspective and approach to social work. The initiatives undertaken by BASW for students, including the meetings, have not only offered practical guidance but have also facilitated a better comprehension of the intricacies of social work practice. 
Participating in these gatherings has provided me with a unique opportunity to think and understand from various dimensions, appreciating the diverse perspectives of others. Each meeting has been a dynamic learning experience, introducing me to new ideas and enriching my knowledge base. 
In light of International Students Day, I believe it's essential to recognize the role of student social workers and ambassadors in creating a supportive and intellectually stimulating environment. The collaborative efforts of the BASW community have undoubtedly contributed to the growth and development of students like myself. 
I look forward to continued engagement with BASW and the prospect of contributing further to initiatives that enhance the student experience within the social work community.